EnergyFusion™ for the first time fully integrates Energy Management with Building Control. The EnergyFusion™ system is based on an 'intelligent' real-time, closed-loop control system which identifies where energy is being used in a building and seeks to reduce and optimise its use. This allows the facilities within buildings to be managed in an energy-sustainable way so that the energy levels used can be reduced. This will not always be directly possible but generally there are big savings to be made.
EnergyFusion™ embeds a number of powerful and unique energy management features. The system determines the energy used in any device, zone, or groups of zones in the building and records these energy levels in the database. This allows the energy performance of any controlled entity to be shown graphically on the screen in real-time or for energy performance reports to be produced on demand.
EnergyFusion™ processes this information to determine energy performance. Using 'intelligent' behaviour, control decisions can be made which allow the energy levels associated with the facilities in a building to be actively reduced. These energy related control decisions often need to be taken under the aegis of a management policy so that the system operates in the interest of the business.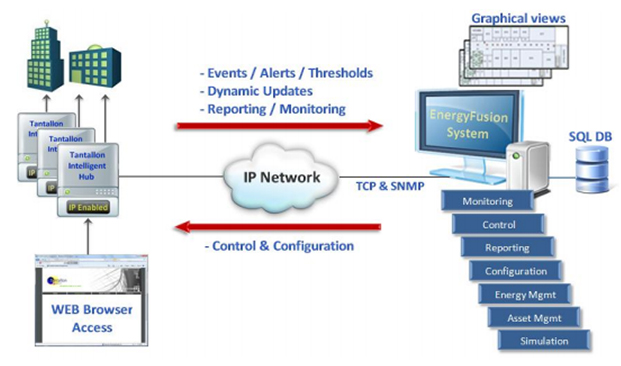 The system provides detailed and highly granular statistics on the energy used and the energy savings made (in terms of KWh, Kg of CO2, and £). This is available in the form of real-time information or in terms of generated reports.